The bat and the boy, a short story of hope
You might just remember this picture that we posted early in 2015, shortly after it was taken in December 2014.  The young boy in the middle had made his own cricket bat out of a lump of timber so he could practice at home where he had no access to a "proper" bat.  The youngster's name is Kennedy Katiwa but he is better known by his nickname "Kenette".  A few months before the picture was taken, EACDT had introduced cricket to Kenette's primary school as a medium through which to educate the children in character development.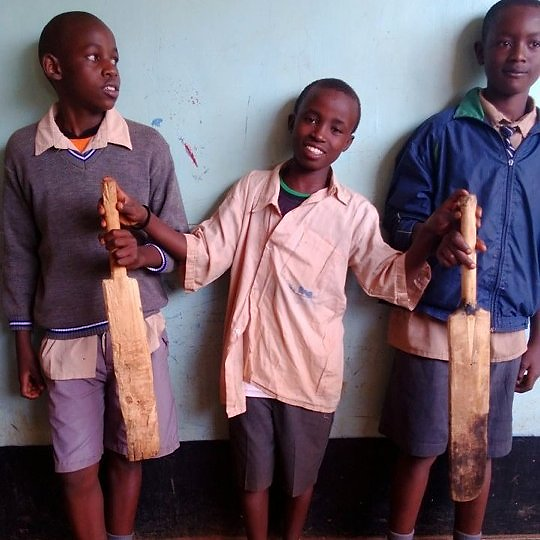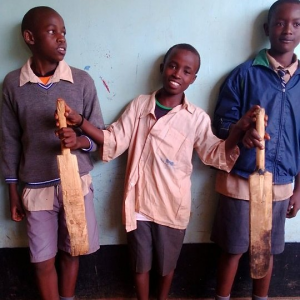 Kenette was born and raised in Kangemi, one of Nairobi's notorious slums, the fourth-born of five children.  Both parents had jobs and they earned enough to enable them to pay their rent, feed and clothe the children and send them to school regularly.  The children were bright, and they performed well.  They were a poor but happy family unit. That was until 2008 when, suddenly and without warning, the mother died.
Everything else changed just as suddenly.  The father lost his job.  The first-born, a boy, dropped out of school in an attempt to earn money to support his younger siblings.  He failed in this, through no fault of his own and, in utter desperation, he left town and went to stay with his grandparents in the country.
The second child, a girl then only in Form 2, also left school having decided that getting married would be her salvation.  She hoped that her husband would support her and the younger children.  In fact, what happened was that she fell pregnant, and her man relied on her for support, rather than the other way around.  As Kenette put it, "It would have been better if she had stayed at home".
The third-born, a boy, unable to cope with the stress, turned to drugs and ended up in jail where he remains to this day.
Kenette, on the other hand, proved more resilient.  Something he attributes to EACDT who had taught him character skills he was able to use to conquer most of the challenges he faced, and which enabled him to help his younger sister.
Some months after their father had lost his job, the family was evicted from the house they were living in because the rent had gone unpaid.  By this time, they could barely afford to eat, let alone pay rent or buy clothes.  All their belongings were locked inside the house and, when they attempted to recover them, they were taken before the Chief who refused their application to have their goods back.  Now they were on the streets.  Kenette's personal misery ended when the family of another of our successful students, Wycliffe Omagwa, took him in and housed and fed him for more than a year, without asking anything in return.
Eventually, Kenette's father got a job as a truck driver and the two youngest children went with him to live in one of the slums in Mlolongo, a town where trucks park up enroute from Mombasa to Nairobi, and vice versa.  The job paid a little and the three of them merely subsisted.
Kenette lost all hope of playing cricket after moving from Kangemi because, without a phone, he could not contact, or be contacted by the coaches.  In any case, he had no money to travel anywhere to play.
Kennedy set about shadow bowling and batting since what little equipment he owned had been impounded by the Chief.  Kenettte also focused on his studies with the aim of helping his family in the future.  He worked hard at primary level and was admitted to a good secondary school where he managed to score a B+ (73 out of a possible 84) in the Kenya Certificate of Secondary Education (KCSE).  He scored exceptionally well given that he had to spend most of the time at home due to the lack of school fees. Sometimes, days would pass without food.  Father was away with work and the lad would be left to fend for himself and his young sister.
Kenette is very grateful to EACDT for the character training he received.  He is a shining example of all that is good about the programme.  He is full of curiosity, enthusiasm, gratitude, optimism, perseverance, self-control and social intelligence.  It is no surprise that he is liked by everyone he meets.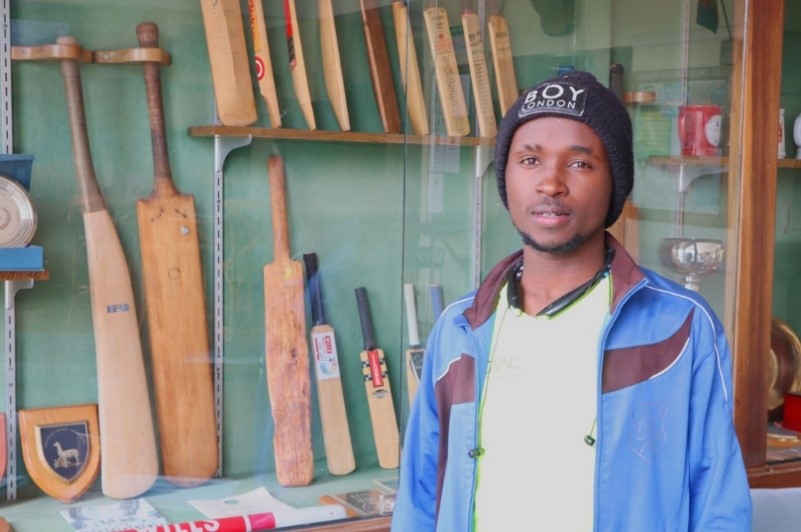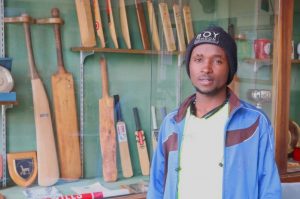 2021 August: the young boy has become a young man – Kennedy Katiwa is pictured next to his bat, on display at Nairobi Club cricket pavilion.
2023: He plays for Kenya Kongonis Cricket Club during holidays as he is currently pursuing a degree course in Pharmacy at the University. Talk of resilience and Katiwa's picture pops.